Artist with a Unique Style
Outside Multicultural Magazine: At the beginning of this interview with you, please can you tell us something about yourself?
Miss Leela Sassafras: My name is Lisa Cannon. I grew up in Donegal, Ireland. The youngest of seven in a house that was always full of music and people. I moved to Sligo in 1998 to go to college and did a year of Interior Architecture but found it wasn't for me so I left and got a job instead, until I figured out what I wanted to do next.
Outside Multicultural Magazine: What first led you in the direction of art?
Miss Leela Sassafras: I've always been creative, and it was always encouraged growing up to make and create. My mother used to sew and knit and made a lot of our clothes and taught us all how to do the same. She also paints and draws and is excellent at portraits in particular. Dad was a musician and also good with his hands working as a carpenter and would often be found out in his garage making something from found slate or wood.
Growing up I spent a lot of time sketching, making jewellery, upcycling plant pots, or chairs or whatever I could add some paint to! I was allowed to paint a mural on the wall of my teenage bedroom which I loved doing. The job I got after leaving the course was in the Cat and the Moon and I saw so much craft and art that I could imagine myself making, so I applied for college again in Sligo IT and went and did my degree in fine art and design.
Outside Multicultural Magazine: We know you are an artist with many talents. Can you explain the types of art you do?
Miss Leela Sassafras: Over the years I have worked at acrylic and oil painting and what would be seen as the more "fine art" side of things and I may go back to that sometime. I found I was trying to think how I could make art that would be impressive to others and that I wasn't enjoying the process myself and it kind of blocked me from making anything at all. Then I started drawing with pen and ink using fine liners and just doodling to pass the time. This developed into some of my favourite artworks I have made that are mainly abstract linework. Like many artistic people, I occasionally weave in and out of different forms of art like face painting or murals or paper craft etc.
During lockdown, I have been making colouring pages that are free for people to download and print themselves as a small way to try and help people and give them something to do with their time.
Outside Multicultural Magazine: How did you start making and selling cards and jewellery?
Miss Leela Sassafras: I made a couple of illustrations just for fun and put them up on social media and they got a great response and prompted me to make cards from them. Right now I'm concentrating on illustrating greeting cards and I also make pins/badges, brooches, and prints. People showed interest straight away and I kept coming up with ideas and designs so I decided to give it a go.
Outside Multicultural Magazine: What kind of material do you prefer to use for making your products?
Miss Leela Sassafras: I use a good quality card to print my greeting cards. I print them myself so they always get a good inspection for quality before they are sold. The pins I've been making are made from shrink film and are coated in resin to give them a glossy finish. My brooches are made from the material left after making pins/badges. There was a lot of material left and I didn't want to waste it so I came up with a way to make use of it and ended up with some beautiful layered hand-drawn trees and butterflies making wearable art.
Outside Multicultural Magazine: Who or what is your inspiration?
Miss Leela Sassafras: Inspiration can come from many places. Some designs are based on local surroundings or common phrases that I adjust slightly to make a pun. Things that are happening in the world at that minute could inspire a design or something nostalgic especially relating to my time growing up. Sometimes something just pops into my head and I have to sketch it or write it somewhere to make sure I don't forget it.
Outside Multicultural Magazine: What's your creative process like?
Miss Leela Sassafras: Once I have an idea I would usually do a quick sketch in a sketchbook, it might take a few tries, or I might get it the way I would like it straight away. Then I go to Photoshop where I illustrate my design digitally. Here I will decide on colours and fonts and make a few changes to the design along the way. The designs then get made into a card or print or pin. The brooches I make are hand-drawn, cut, and assembled by hand.
Outside Multicultural Magazine: How long does it usually take for you to complete one quirky card? How about a brooch?
Miss Leela Sassafras: It is very hard to know how long a card design takes from start to finish. The idea could be swimming around in my head for days before it is made into something solid. But once the design is there its ready to be made into any amount of cards. The brooches are a very different process to the cards or pins. Each brooch is unique and hand-drawn and the shapes are decided by the shape and size of the material I am working with. I would say it could take three hours or so for one brooch, then about 48hours to cure the glue.
Outside Multicultural Magazine: What is it like to be an independent artist today?
Miss Leela Sassafras: In one way I think artists are lucky with having social media and the internet to get their work out there but it also means artists worldwide have the same opportunities and it can be a saturated market. You have to do something to stand out and be seen.
Outside Multicultural Magazine: Who are your customers, do you have a chance to get in touch with customers from abroad?
Miss Leela Sassafras: I started trading at Strandhill people's market last Sept until Christmas and also at Sligo Christmas Market in Quayside so I got to talk to people directly to find out what they are interested in and got some lovely repeat customers. They honestly range from young children to older folk. What I like about the markets is the interaction, and even if someone doesn't buy anything but they have a giggle at one of my puns or it strikes a conversation I'm happy.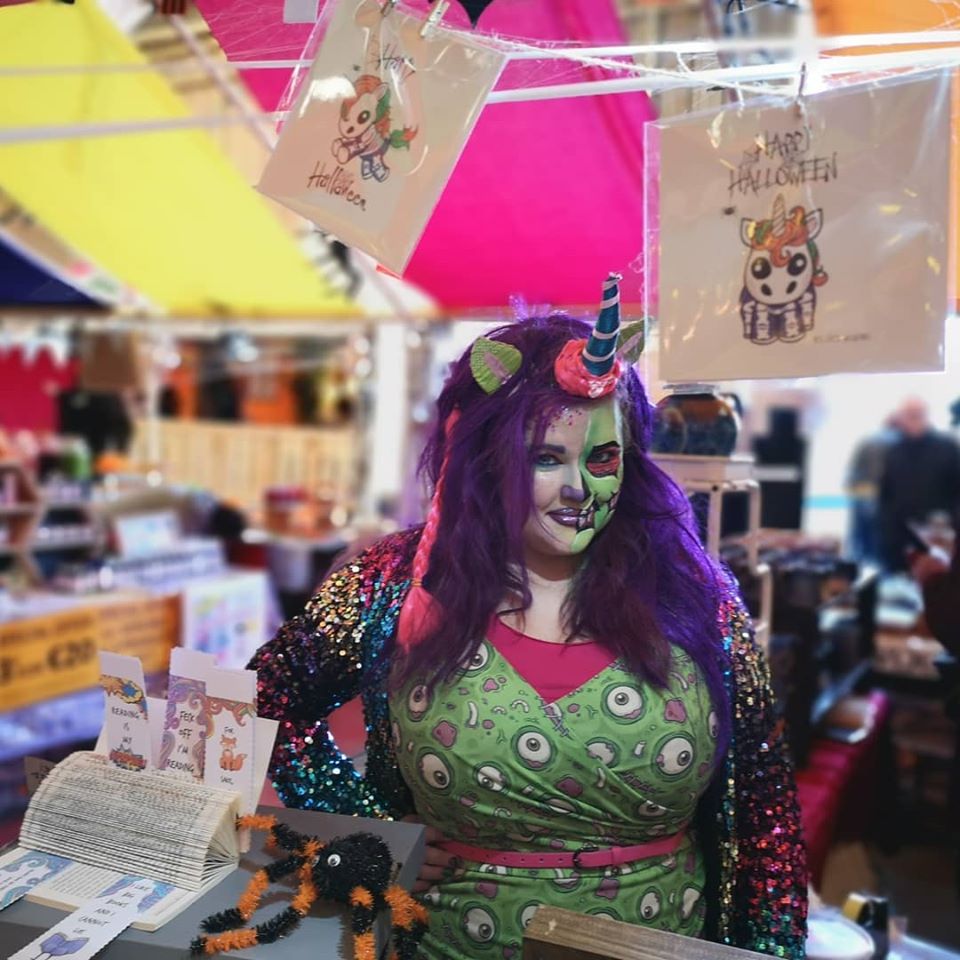 Outside Multicultural Magazine: What kind of feedback do you get from other countries?
Miss Leela Sassafras: Generally, feedback is the same from anywhere. I haven't seen much difference in reception from Ireland to anywhere else.
Outside Multicultural Magazine: You are also a singer, correct? What first got you into music? Who inspired you to make music?
Miss Leela Sassafras: Yes, I'm a singer. I grew up in a musical family. My Dad was a musician and singer as are some of his brothers and sisters. My own brothers and sisters have all played in bands, sang in musicals, etc. and it's a great thing to grow up with. We were always encouraged to pick up an instrument or sing and we are guaranteed to have a jam or sing-song when we meet up. I think I was two or three the first time I was on stage, I don't think I was singing then but it was an early start to the stage.
All through National school I performed in all the shows and I took part in musicals and dramas in secondary school and I was in a couple of bands in secondary school too. And now I'm in a couple of different bands. There's 'The Flight' with my husband Aaron (2 piece or 4 piece depending on the gig) mainly pop covers, 'The MASS Band', a 6 piece disco-funk band, playing weddings and clubs and then occasionally 'Tropical Tunes' playing to babies and little kids which is great craic!
Outside Multicultural Magazine: How would you describe the music that you typically create?
Miss Leela Sassafras: The bands I am in are all cover bands. I'm not a writer and don't play original music, I would be open to collaborating with someone else but on my own, it's just not where my talents lie. The music choices for all the bands are generally something to dance to, to make you smile, party music.
Outside Multicultural Magazine: Who would you like to collaborate with?
We might not get to meet them in person but it's great that with technology we can jam with someone thousands of miles away. Hopefully, I will be doing more projects similar to this with other musicians also.
Outside Multicultural Magazine: If you could open a show for any artist who would it be?
Miss Leela Sassafras: It's not something I've thought about much. Probably because I don't play originals. I think I'd rather jam with any artist rather than open for anyone.
Outside Multicultural Magazine: What is your favorite song to perform?
Miss Leela Sassafras: I honestly don't have a favourite song to perform. I usually enjoy performing something that we haven't played in ages or something new.
Outside Multicultural Magazine: Which famous musicians do you admire?
Miss Leela Sassafras: I think from being a vocalist I am drawn to other singers, I was always amazed at Skin from Skunk Anansie and her vocal range and power. Recently Lizzo is up there as someone to admire, she's a strong woman both musically and in her personality.
Outside Multicultural Magazine: What is the best advice you've been given?
Miss Leela Sassafras: Wear sunscreen.
Outside Multicultural Magazine: What's next for you?
Miss Leela Sassafras: I'm currently working on my website and hope to have that up and running soon. I'm constantly expanding my card range and that is keeping me extremely busy. Musically we have to wait and see what is happening with the COVID restrictions and whether we'll be playing in pubs again this year at all. My husband and I (The Flight) have been doing some Facebook Live gigs for charity and might do a few more online gigs in the future.
Outside Multicultural Magazine: What advice would you give to your younger self?
Miss Leela Sassafras: Believe in yourself, stand up for yourself. I've always been able to stand up for others but when it's myself I've always found it more difficult. I suppose these are things to say to myself now as well as when I was younger.
Outside Multicultural Magazine:How would you describe your style?
Miss Leela Sassafras: Quirky and fun
Outside Multicultural Magazine: What is the key to building a unique style?
Outside Multicultural Magazine: As we mentioned, your style is unique; we find it beautiful and fairy-like. Do you believe in fairies and magic?
Miss Leela Sassafras: Wow thanks, I certainly believed in magic and fairies when I was a child. A bit of me still wants to believe. Walking around the woods and the hills locally can feel magical. Some areas I have found myself stopping and saying "there are definitely fairies here"! Maybe I read too many books and watch too many films that have magic in them.
Outside Multicultural Magazine: As we are primarily a magazine that promotes multiculturalism, we ask all of our guests and authors to give us a little feedback on what multiculturalism means for them. Could you please give us your view on multiculturalism, as each opinion matters to us?
Miss Leela Sassafras: Diversity is important and we should acknowledge and welcome it. It's always interesting to learn about other cultures and see the similarities and differences.
Outside Multicultural Magazine: Do you have a message to send out there?
Miss Leela Sassafras: Try to be kind to yourself and embrace your own differences, then you'll be in a better place to be kind and understanding to others!