I am a migrant woman and I am very proud to call myself a Bloody Foreigner. As a Bloody Foreigner, I donate blood and I save lives. Two years ago, I started an awareness-raising campaign called Bloody Foreigners to promote blood donation amongst migrants. We chose the throughout provoking campaign title deliberately to grab attention, to make a noise, and to start a conversation about hateful rhetoric directed at migrants. That campaign brought two very important parts of my personhood – blood donation and migratory experience- into one activity. But let's go back to the beginning of this story. 
Becoming the Bloody Foreigner
I became a blood donor at the age of 18, while still living in Poland. I attended clinics very regularly and within 4 years I donated 5 litres of blood in total. Being a blood donor quickly proved to be an important part of my identity. Blood donation is the most sustainable and accessible form of community activism. It doesn't cost anything as our blood is replenishable, and it is accessible to the majority of people regardless of their physical capability or background.
Blood donation is also one of the simplest and most impactful acts of community care. A single blood donation can save up to 3 lives. The act of blood donation creates a very special yet peculiar relationship. It involves sharing blood yet, people who become connected through the act of donation-transfusion never meet.
In 2005 I became a migrant. I arrived in Dublin on an early morning in late June, I remember it was raining. Becoming a migrant was the most formative experience of my life, and I consider being a migrant as one of the core elements of my identity.
Being a migrant, however, is not easy. Very often we have to lose part of ourselves to make space for something new.
Inspiring others to become blood donors
After I moved to Ireland I lost my identity as a blood donor for some time. I had to learn the rules of existing in a new society, and I needed to find the confidence to live my life in that new reality. That process took so much of my energy that there was no space for self-realisation, even if that was something so effortless like blood donation. Besides, I was simply not aware that I could donate blood in Ireland as a foreigner. I think it was five years into my life in Ireland when I found out there was a mobile blood donation clinic in my town. I decided to go in and ask. That's when I became a blood donor again. I was delighted to reclaim that part of my personhood.
Being a migrant is also not easy due to the experiences of xenophobia and discrimination. Hateful rhetoric also known as hate speech is the most common form of harassment and abuse directed at migrants. Individuals are those who spread hateful rhetoric, however, what follows is the media and public figures spreading it on a national level. Hate speech is pushing migrants to the margin of our communities.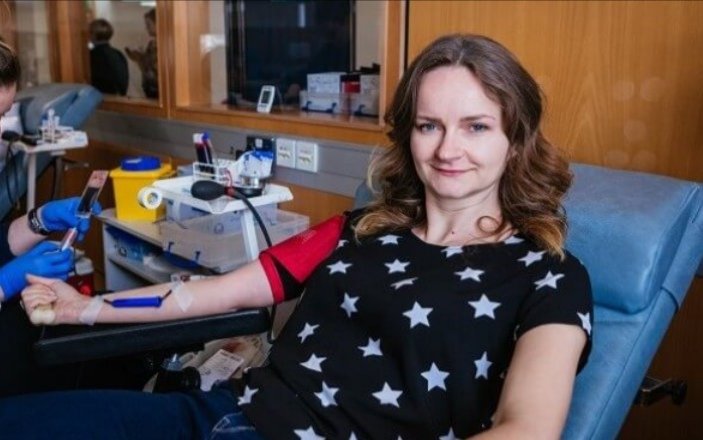 When I started to work for the Immigrant Council of Ireland I could create new initiatives aimed at facilitating integration, including tackling racism. The idea of doing something about blood donation was always floating somewhere at the back of my head. I was just waiting for the right idea. The idea came to me when I met a Polish migrant woman from Scotland, Joanna. She rolled out a blood donation campaign in Scotland in response to the hateful rhetoric against migrants during the Brexit campaign. I've decided to borrow her idea and to introduce it in Ireland, and in July 2018 I became a Bloody Foreigner.
The initial campaign was aimed at the Polish community, but it expanded since to all nationalities. We encourage people to register as a blood donor with the Irish Blood Transfusion Service (IBTS). Some participants donate individually, others organize group donations with friends and work colleagues.
We encourage people to take part in our social media campaign where we share our photos from the donation clinic using the #BloodyForeigners. 

The purpose of the Bloody Foreigners campaign is to promote blood donation amongst migrant communities in Ireland.
Foreigners saving lives
The Irish Blood Transfusion Service estimates that we need 3,000 donations per week to ensure a sufficient supply of blood for patients in Irish hospitals. Blood transfusion is not only essential in emergency and during operations. It is also a key element of treatment for cancer patients and people with Sickle Cell disease.
The estimates are that 1 in 4 of us will need a blood transfusion at some point in our lives. 
Equally important for the campaign is to address the exclusionary hate speech that migrants receive. With this campaign, we are transforming a negative and offensive term into a term with a positive connotation. We are not limiting anyone's freedom of speech, we are just changing the meaning of words, because – words matter.
Through an act of blood donation, we also manifest that we are part of Ireland. We care about the health and wellbeing of our communities. 
A symbol of connection – giving blood
The campaign is also expanding the notion of integration. People measure migrants integration very often by labour market participation and fiscal contributions. However, we are much more than labour units. We have a multilayered and deep connection with this country. Our contribution can come in many different forms of community participation.
There is no better symbol of integration than the exchange of blood.
Recently I have celebrated the 15th anniversary of my arrival in Ireland. I consider the Bloody Foreigners campaign as one of the most important achievements in my personal and professional life. So far, I've donated 12 times in Ireland. This means I potentially saved up to 36 lives, sounds amazing, doesn't it? There are no words to describe the emotions you feel when you receive a text message from the IBTS, informing you which hospital they dispatched your blood to. You can experience that too if you become a blood donor. You can also fight hate speech if you become a Bloody Foreigner.